David Reisland: Artist/Craftsman/Designer
David has worked as a homebuilder, finish carpenter cabinetmaker and metal fabricator. He has flown and repaired old airplanes and helicopters, built and driven fast cars and faster motorcycles – all while acquiring the myriad of skills and insights needed to be a master artist, craftsman and designer.
David lives and works on the Big Island of Hawaii, and has for many years. Hawaii is known for its remarkable woods, and it supports a rich and vibrant community of woodworkers that are drawn here by the natural resources, the culture and a shared appreciation for the place. His studio is in a historic building on the slopes of Hualalai mountain, in the heart of Kona coffee country.
He works with a wide range of tropical hardwoods, but koa and mango, woods grown in Hawaii that are known for their life, color and richness, are featured. Koa is known as the wood of the ali'i (Hawaiian royalty), and should be respected. David's work is created with that goal in mind. His work follows the wood: it shows the way.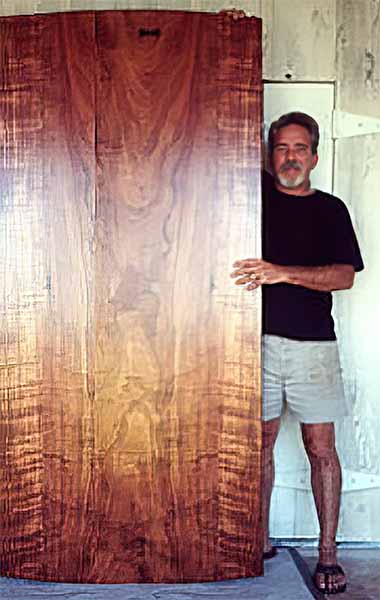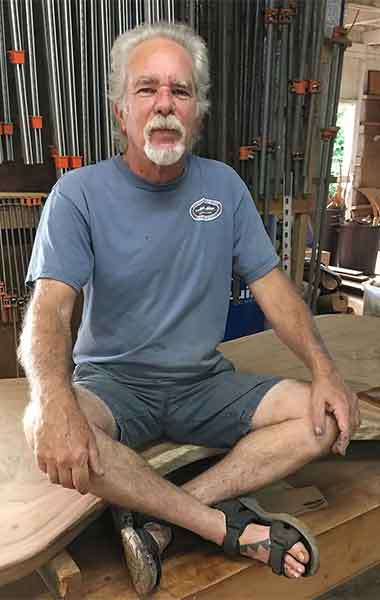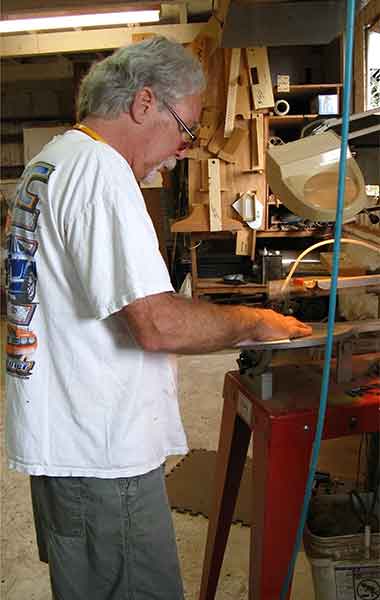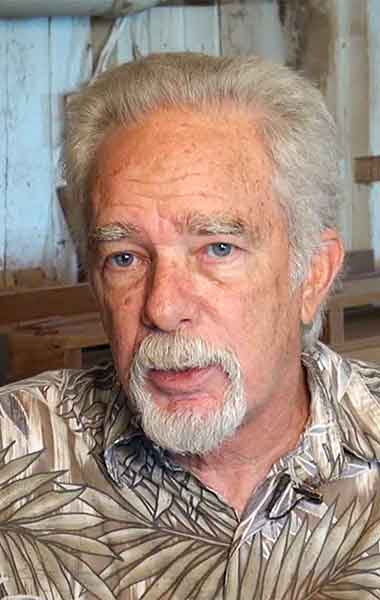 As a fifth generation woodworker, I figure it was my destiny to make custom furniture and perfect my marquetry skills. But not long ago, I learned that my connection to wood and artistry goes even deeper.
My brother traveled to Germany and did some research, and it seems the skills I have go back even more than a few generations. The Reislands (which is a rare name) were the traveling tinkers of Southern Germany – we repaired everyone's broken possessions. I never understood how I knew how to do new techniques I'd never done before. Now I do – it's in my DNA!
I tend to design things without any constraints as to how I'll build them, and then work out the construction details later: this frees up the design process. Maybe it has a big curved door that people tell me won't work. "You can't put hinges on that," they say. Well, tell me something can't be done, and I'll just have to figure it out. I use a combination of my mechanical and engineering skills, along with my woodworking and design skills, in the creation of each new piece.
Over time, I developed a passion for Asian art and architecture, and the designs of the Arts and Crafts movement. George Nakashima, Sam Maloof, the Greene Brothers, and Frank Lloyd Wright have also influenced me. The experience that changed my career the most, though, was a workshop I took from Silas Kopf, an internationally renowned marquetry artist. I can trace my love of bevel marquetry back to that singular moment.
The precision and artistry of my marquetry calls for incredible patience and skill. For decades, I've been working with the tiniest pieces of wood, painstakingly incorporating them into tables, chests and other pieces of furniture to create stunning images. And I'm still learning. I keep pushing the medium: more parts, smaller and smaller parts, more shading, etc. I have to decide for each piece which way the grain needs to go; is the figure of the grain the right way I've positioned it?
The technique I use is known as double bevel marquetry – I cut one pice (at an 11º bevel) at a time into the background, then the next one so it nests into the first piece, and so on. Marquetry is inherently complex.
Lately my art has moved to the wall – taking my marquetry to two dimensions and I'm now also using transparent toners to add color. I use transparent paints over the top to enhance the natural colors and bring out the figure in the grain. Adding color is blasphemy to the traditional marquetry artist. It's a completely new technique, but very satisfying for me.
The toners allow me to achieve something I've been trying to do for years: recreate the colors of brightly colored fish and tropical flowers. Natural wood tones didn't do them justice. For a mahi-mahi, as an example, I'm able to develop the gold color on the bottom of the fish, blue on top, and green in the middle with all the little spots. For flowers, using figured woods and color adds to the depth and feel of what might otherwise be an ordinary image. This feeds my creativity, and fulfills that need in my life.
As I work alone, I don't notice how much my work is evolving. I don't know how…it just does. A fantastic art teacher in junior high school, Mr Guest, opened my eyes to art and what I was capable of. Years later, I met and learned marquetry from Silas Kopf. I'm grateful to both men for opening new doors for me, without which, I might have chosen a different path.
As an artist, it takes so much to get to this point. I've put in the years, and even though it's in my DNA, it is not easy work. This life takes dedication. The artistry involved requires time, tools, talent and years of experience. And to be an artist, I depend on those who believe I can create their dream. What I create seems to bring many people joy, which makes the process all the more fulfilling for me.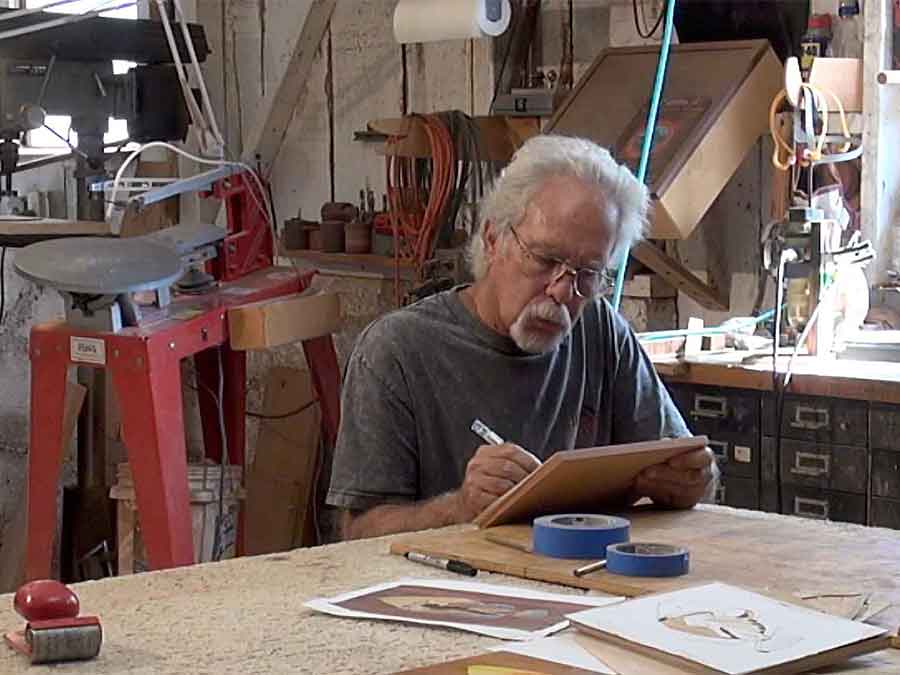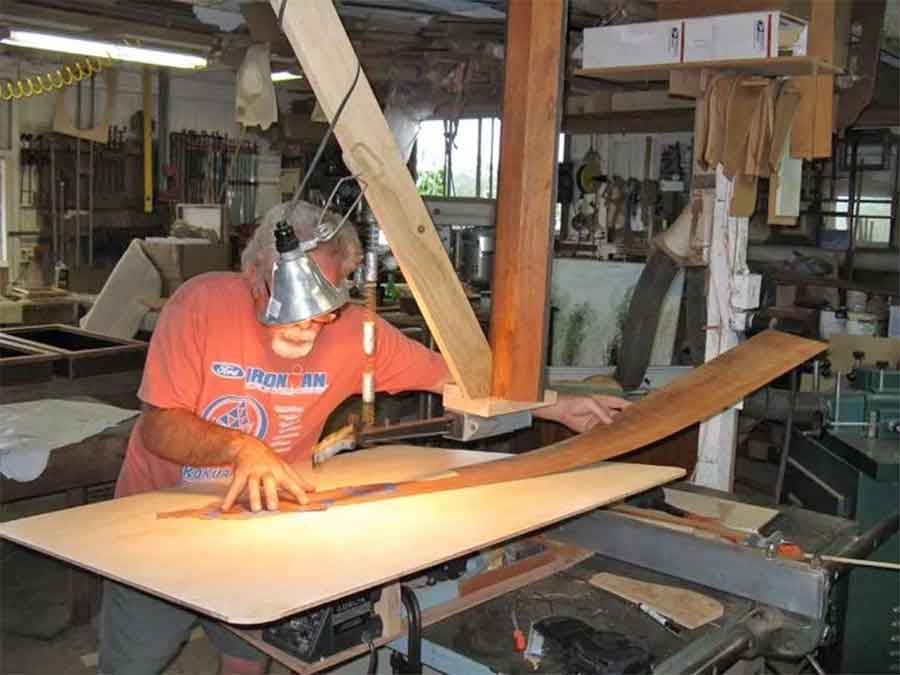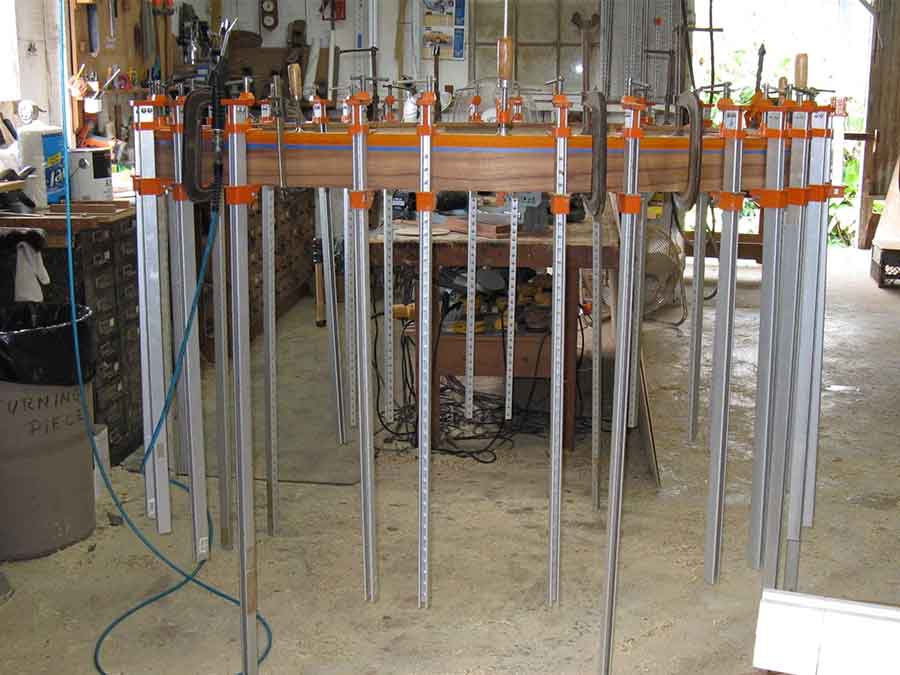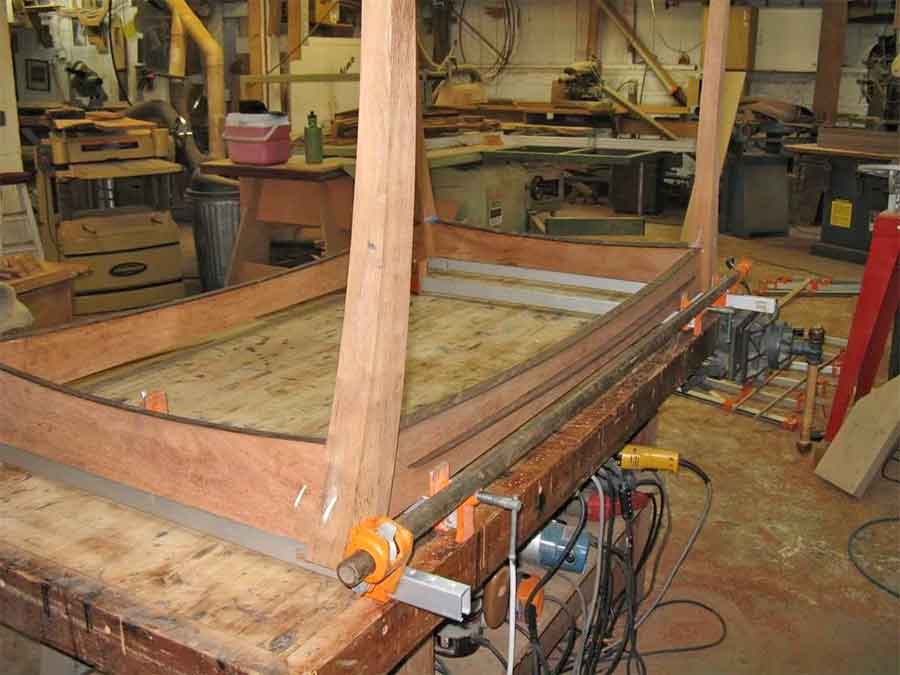 Where concept becomes reality
David's studio is located in a one hundred year old coffee processing building in Holualoa, on the slopes of Hualalai mountain, in the heart of Kona coffee country. It is in this studio that the creative process begins, culminating in the furniture you see on this website.
A new design starts on the sketchpad and then moves to a full size pattern, which is reworked until all the proportions are balanced and pleasing to the eye. Every piece of wood is then hand selected for color and grain direction for each part of the piece of furniture or artwork.
Koa: Hawaiian Wood of the Royals
Koa is the heart and soul of much of David's work. It is special not just for its beauty, but also its rarity, history and cultural significance.
The beauty of Koa is rooted in its unique grain patterns and a variety of colors. Koa (acacia koa) is known as the wood of the Ali'i (Hawaiian royalty) for a reason, and is one of the most treasured woods on the planet. It exists naturally only in Hawaii, and the finest Koa comes from the Island of Hawaii, above the 3500 feet elevation. The growing conditions at this elevation are more stressful, and as a result, the tree develops a great variety of color and intricacy of grain. Its natural life cycle is about 80 to 150 years. It can reach heights of up to 100 feet, and diameters as large as 6 feet.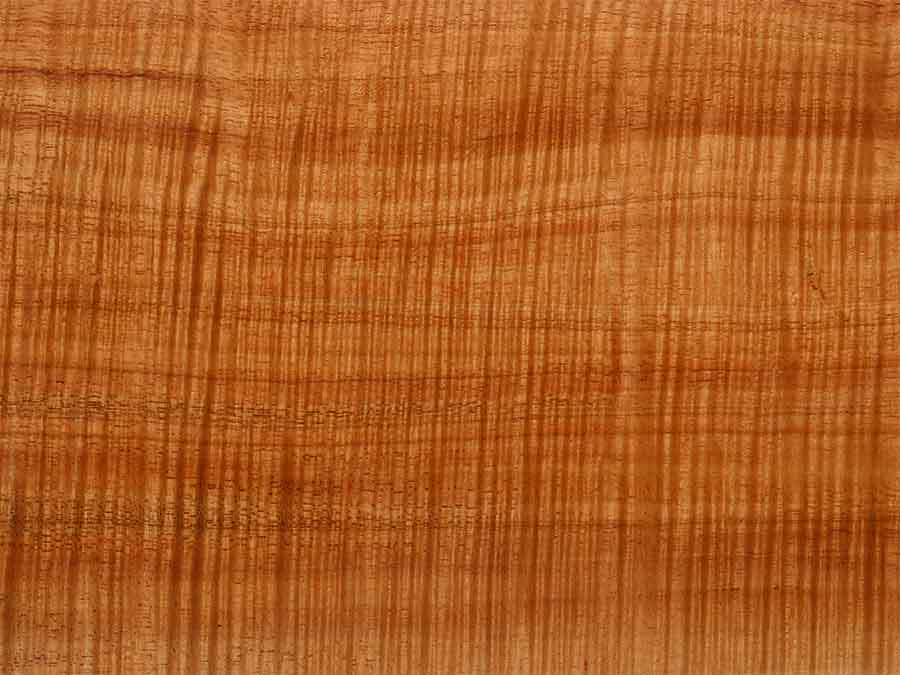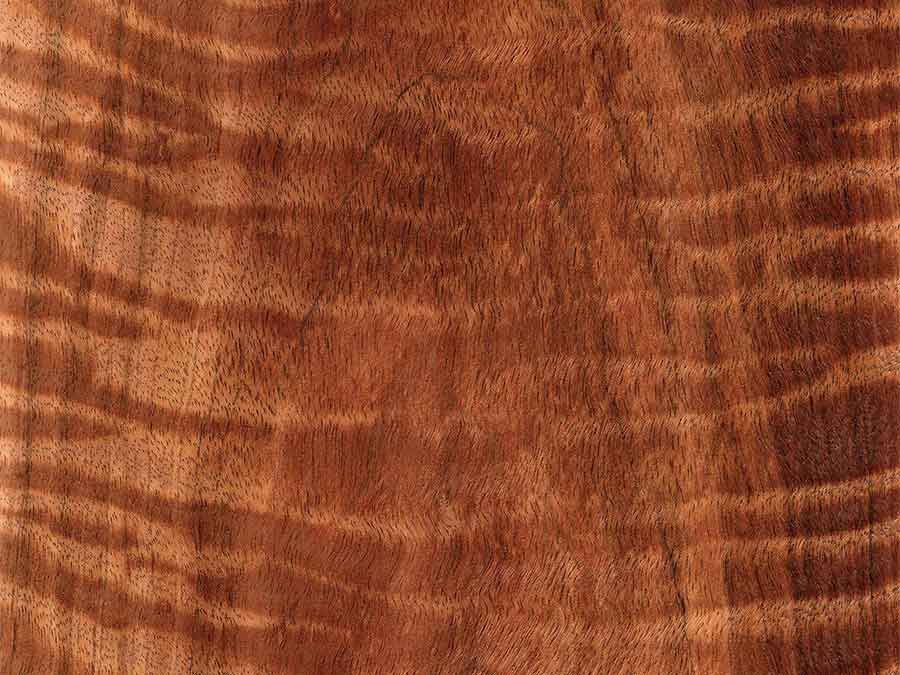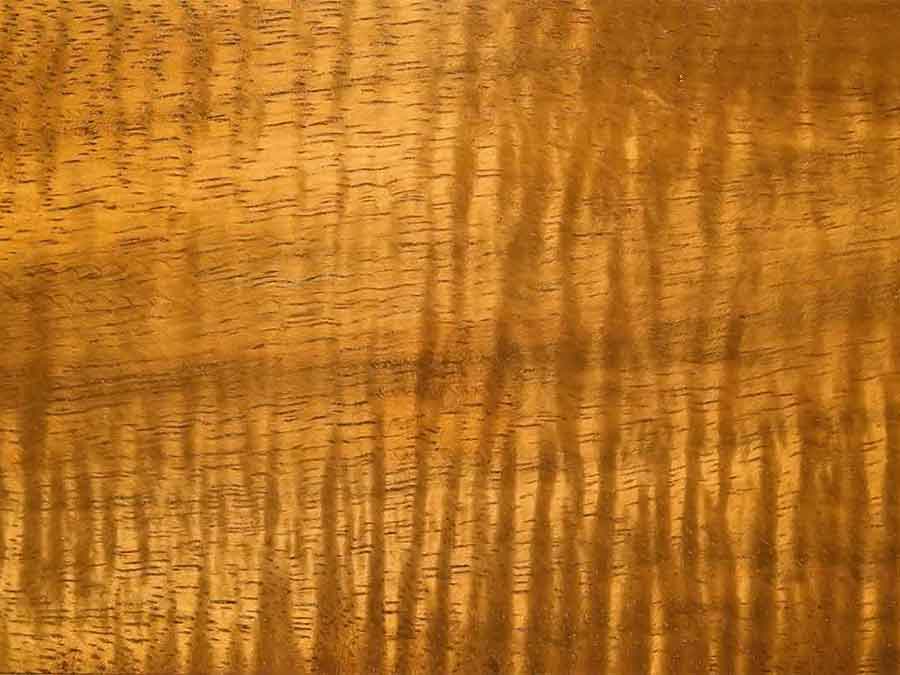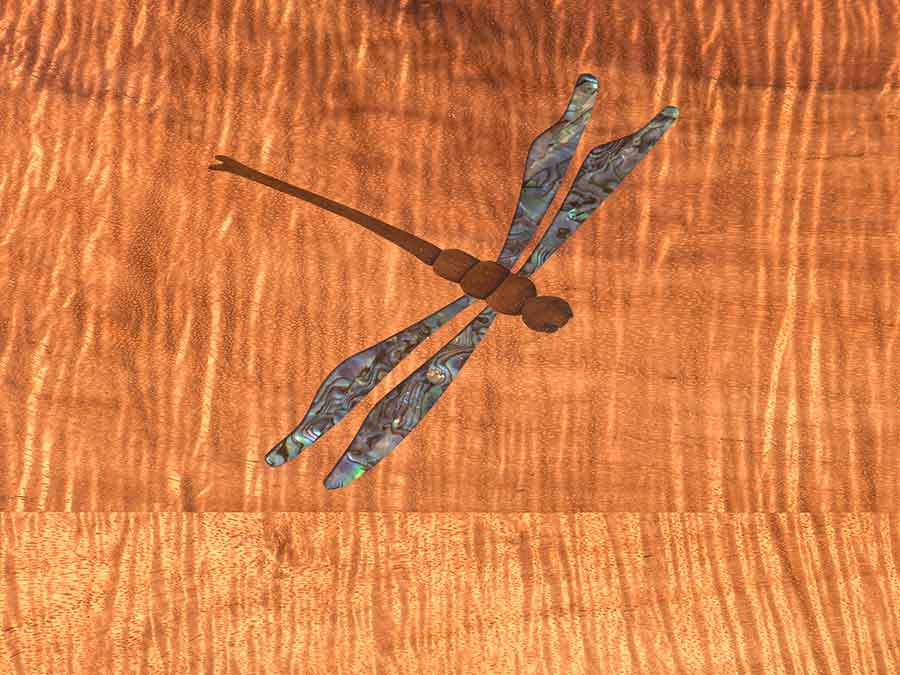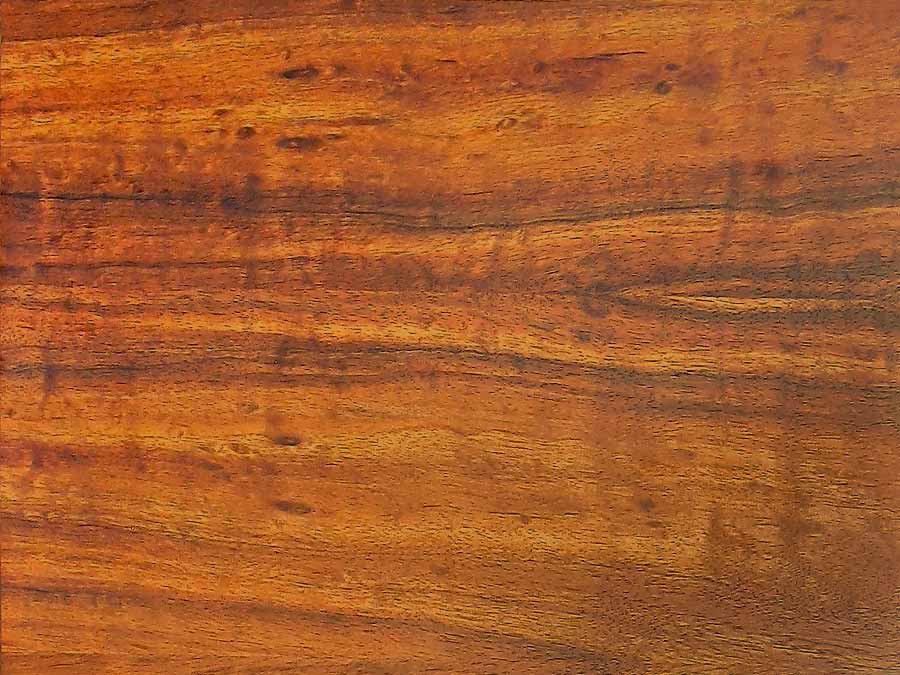 Koa's grain grain can be straight, curly, wavy, bubbly, or any combination of these growth patterns. The color ranges from light golden brown to deep red and brown hues—some as dark as chocolate. Koa has weight and strength properties similar to Black Walnut.
The word koa means "warrior" in Hawaiian. The warriors of King Kamehameha the Great's era created canoes and weapons from this wood plentiful on the Big Island of Hawaii. This wood became synonymous with the warriors themselves, and it became known as koa. The first surfboards were also made of koa. More importantly, koa was used to make many Hawaiian outrigger canoes for fishing, sailing, and traversing islands.
Acacia koa is a legally protected wood in the state of Hawaii.
The Koa wood that David uses comes from sawyers who legally harvest only trees that are dead or dying. The koa roots are often loosened with a bulldozer and then the tree is pushed over slowly and lowered to earth. When the koa is harvested in this manner there is no loss of wood caused by traditional logging methods. In addition, the harvesting allows the young koa trees light and air to sprout and grow. After falling, the wood is then cut and air dried for one to two years. It is then placed in a kiln for up to another year before it is ready to be made into furniture.
Retail and Commissioned Work
Like to know more? Let's talk!